Garage Door Spring Repair in Michigan?  Broken Torsion Spring? We're Here to Help Today!
Garage door won't open? Up and Down Door company specializes in Garage Door Spring Repair and Broken Torsion Spring Replacement in southeastern Michigan (Canton, Ann Arbor, Brighton, Northville, Saline, Novi, Ypsilanti, Southgate, Commerce, etc.). It is our goal to fix or replace your garage door spring in a expedited professional manner.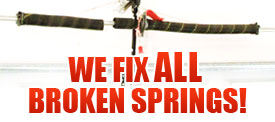 Our spring replacement prices are the the best that you find, and we do not back down on our warranties or use low-grade materials. Some companies try to trick you in to what sound like "deals", but ultimately there are hidden charges on their spring repairs or limitations on their warranties. We do not change our prices, and have no limitations on our warranties. We Service and repair garage doors and door springs in Ann Arbor, Canton, Livonia, Northville, Novi, Commerce, Milford, Wixom, Ypsilanti, Romulus, Wayne, Westland, Southgate, Brownstown, Trenton, Belleville, Saline, Brighton, Howell, South Lyon, West Bloomfield, Farmington Hills, Southfield and all of Southeastern Michigan including these counties (Wayne, Washtenaw, Livingston, Genesee, Oakland, Monroe, Jackson). Don't forget our Michigan garage door spring replacement coupon!
Michigan Spring Replacement and Repair from the Best ASAP!

Our Torsion Springs that we use come directly from "Service Spring Industries". They're well known for producing the best torsion springs that will last longer then any other garage door spring in your home. We will never defer like most other companies do these day in MI and put profit over the quality of the product. It is very important to us that the services that we provide for you and your garage door are the best that you will find in Michigan's garage door repair industry.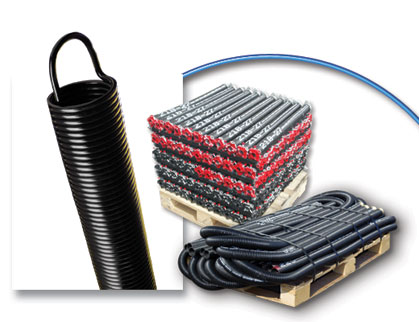 Broken Garage Door Spring Information from the Garage Door Repair Experts
Did you know that garage door springs last on average about ten thousand cycles? Did you know that you should oil your garage door springs 2-3 times a year? Did you know that when a garage door spring is broken the door shouldn't be used? Did you know that if your door opener is not opening that it's doing its job? Did you know your springs are what actually lift 99% of the weight of your door?
Garage door springs last on average 5-10 years in life (1,000 – 1500 cycles per year).  At the time of torsion spring replacement both springs should be replaced if two springs exist. If your garage door is very heavy, or the garage door opener can't lift the garage door, then you may have a broken garage door spring. In some cases garage door spring should be replaced even if there is no current breakage that is visual. Garage doors are meant to be balanced, and if they are not there is an issue with the garage door's spring system.  We are here to help you and give you an honest opinion of what you need to repair your garage door and get you back to normal working conditions.
Torsion Spring Information
Garage door springs are under tension, and very dangerous. When they fail or when homeowners attempt to fix them, they can cause serious damage and serious bodily injury. Experienced companies know that this is one household chore that is best left to trained techs. If your garage door is older or if it is showing signs of failure, let Up and Down Door Co. service your garage door springs and existing door to get you back on track.
We're just a phone call or email away. Don't be shocked by our fast response times! Give us a try today!